Kumon's Environmental Activities that
Spread throughout the World
Activities in Japan
KIE and other Group companies in Japan (Kumon LIL, Kumon Publishing, and KTRIE have been promoting environmental management activities through the Environmental Committee in Japan.
The year-on-year overall environmental data for Group companies in Japan for FY2019 showed good results at: electricity usage = 94.0%, paper usage = 76.8%, paper recycling amount = 93.0%.
In order to reduce paper usage in FY2019 DocuWorks* was introduced to unite/manage digital and paper documents.
Up to now more than 1,000 items were responded to each year (proposals regarding Kumon logo cutting sheet, outdoor advertising designs, Center interior layout, interior design consultation responses etc.) by being entered on a paper Center Environment Improvement Consultation Sheet and exterior photographs and diagram data were stored as actual items. These were digitized with DocuWorks. In addition, transmitted and received FAX data was able to be made paperless. This reduced paper usage and was useful in realizing remote work, which is part of "work style creation." The Kumon Institute of Education is working on "work style creation" that is easy on the environment by converting to a digital basis for data transmission and information sharing.
*DocuWorks: Fuji Xerox document handling software to unite/manage digital and paper documents.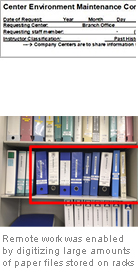 Environmental Data in Japan


Activities by KNA
The Kumon Green Team is always looking for ideas to raise the environmental consciousness of staff, staff family members, and members of the community. We thought that it would be a good chance to make a contribution to the environment and reduce the number of disposable items when moving to the new office by providing staff with a welcome gift to promote the use of reusable water bottles, cutlery, and bags.
We chose, in a Kumon brand bag with a fastener, a reusable cutlery set, a hot/cold stainless steel water bottle, two reusable mini tote bags, and a mini decorative plant. These items were given to staff at a welcome event in May of 2019. This was the best timing to start growing a mini decorative plant. We gave mini decorative plants to staff to encourage them to bring them into the office. Plants reduce stress, raise productivity, and clean the air.
The items in the welcome gift set were popular with all staff. Staff are using the mini tote bags to bring their cutlery sets and water bottles to the office to each lunch every day. In addition, the General Affairs Team provided to staff several new highest quality water coolers. These water coolers can provide water, hot water, and carbonated water. The use of each cooler for three months save 6,123 PET bottles of water.

Activities by KSA
Unfortunately, the rubbish separation collection logistics system in the city of Sao Paolo is insufficient. In general, at present a great deal of potentially recyclable rubbish is mixed in with, and treat as, general rubbish.
Therefore, Kumon South America researched a variety of rubbish collection companies and signed a contract with a waste management cooperative that collects and recycles paper, cardboard, plastic, cans, bottles, PET bottles, etc. At the end of August we provided an explanation to headquarters staff regarding the importance of recycling and the separation of rubbish and we began the collection of separated rubbish from September. Up until now there was a garbage pail for each staff member and this resulted in the throwing away of all kinds of rubbish in the same garbage pail. In order to change that habit we got rid of individualized garbage pails. Instead, we placed garbage pails for recyclable material on each floor with sign attached to show which material was to be placed in which garbage pail.
In addition, in order to promote recycling activities, we set up a bulletin board explaining recycling rubbish, held workshops, and began sending out a digital information magazine entitled GO GREEN!
We shared information about the history of the environmental management promotion Green Team of Kumon South America, connections with The Kumon Way, information about recycling in Brazil, methods of recycling in the KSA headquarters (ways of separating rubbish and the destination of rubbish), awareness of "the 3 R's", the SDG, etc.
From 2020 we are sending out information every two months in order to raise consciousness about environmental preservation, saving water and electricity, and recycling.

Activities by KAO
Office lighting was changed from incandescent lighting to LED lighting and care is taken to turn off lights in areas that are not being used. Incandescent light has the worst efficiency of any type of lighting as 90% of energy is expended as heat and only 10% is used for producing light. This also contributed to an increase in temperature within the office. The introduction of LED lighting has allowed the limitation of temperature increase and is an advantage in the summer season.
In addition, proposal forms and vacation request forms were digitized in order to reduce paper usage. This has reduced the amount of time necessary for filing of paper reference materials, organization, and searching, and made this time very productive. Digital documents that have been digitized are referred to as a central repository and they are all stored in a digital filing cabinet. Digitization has led to a reduction in paper usage, an improvement in process efficiency, and a reduction in costs.

Activities by KCN
Due to the occurrence of COVID-19 Centers were closed, all offices stopped operations, and all staff did remote work for several months as an emergency management measure.
In order to prevent the spread of COVID-19 in the workplace measures such as remote work, shift work, and the flex-time system were introduced in the fourth quarter of FY2019. By temporarily closing offices, Centers, and warehouses and moving to remote work there were major reductions in electricity and paper usage. Compared to the same period last year electricity usage fell by 14,567 kWh to 46,383 kWh and paper usage fell by 16,612 sheets to 127,518 sheets.
During the period of remote work many staff shared information with file sharing platforms and introduced teamwork hubs to share screens with colleagues. In addition, memos were made using the notepad application. This was effective in reducing the amount of paper used.
It is important to deepen understanding of environmental problems in order to implement good environmental activities. Therefore, the Kumon China Green Team is sharing useful environmental information regarding world environmental problems and prevention measures with staff every quarter.
In the fourth quarter of FY2019 we focused on the negative effects of air pollution on health. We introduced information about the causes, general pollutants, effects on health, related diseases as well as effective preventive measures that can be implemented at home and in the office.

Activities by KEA
Disposable plastic items are durable but the time required for their disintegration is extremely long. Therefore, they are one of the most dangerous pollutants for the environment. Plastic is a great threat to the health of all living things in the oceanic and land ecosystem of earth. Therefore, all of us must strive not to use plastic.
Until recently the Madrid branch office had been using a water dispenser rental service where approximately 1,000 disposable plastic cups were being used per year. However, reusable cups are now being used in place of disposable plastic cups.
In addition, in place of water dispenser plastic bottles we are now using glass bottles filled with good quality tap water from the Sierra de Guadarrama source cooled in a refrigerator.
This has allowed us to reduce the amount of disposable plastic that we used and it has also allowed us to reduce the resources necessary for manufacture leading to a reduction in the increase of greenhouse gas emissions. In addition, cancelling the rental of water dispenser water bottles is also linked to reducing the amount of CO2 emissions resulting from regular deliveries by automobile.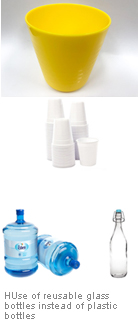 Promotion of environmental conservation and preservation of
forest resources together with outside partners
Kumon's
Environmental
Activities
Kumon's Environmental
Activities Spreading
throughout the World