Kumon's Goal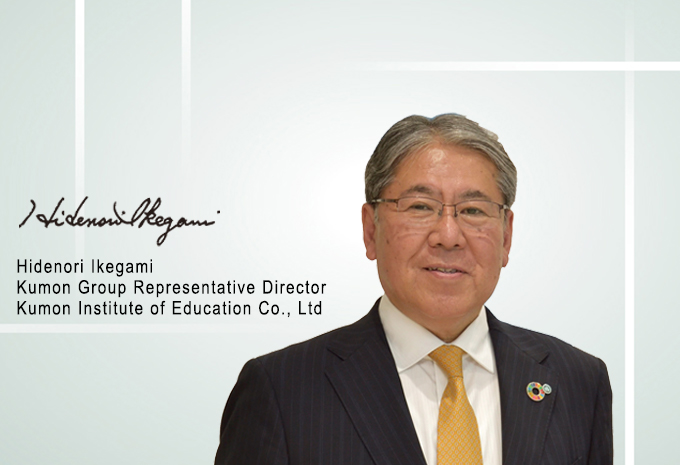 Contributing to Solving the Problems of Global Society
Through Kumon Method Education
Since its founding, Kumon has been committed to providing children not only with high academic abilities, but also with the ability to learn on their own. We believe in the potential of each and every student in front of us and, in order to maximize their abilities, we discover what is "just right" for each student. Then, we provide them with the optimal Kumon Method worksheets. The Kumon Method, which was created by a father for his own child, has now spread to more than 60 countries and regions around the world.
The concepts and implementation of the Kumon Method are now supported by people of all ages, from early learners to seniors. It is sometimes said that we are living in the era of the 100-year lifespan, and I strongly feel the expectations from the public for Kumon Method education that will support lifelong learning. Kumon will continue to refine the Kumon Method through repeated implementation, while continuing to learn from our students, with the goal of making a contribution to the world.
Kumon is also committed to helping to solve problems in the international community. The United Nations has set forth the Sustainable Development Goals (SDGs) aimed at eliminating global poverty and achieving a sustainable world. The fourth SDG is "ensuring quality education for all." Education is one of the most important factors for realizing a sustainable world. Kumon has been implementing the Kumon Method of education to consciously develop the potential of our students to the maximum, and we are proud to say that Kumon's educational activities are a practical example of "ensuring quality education for all."
There are still many children around the world who cannot be offered Kumon Method education through Kumon's efforts alone. In addition, some countries and regions are living in conditions where it is presently not possible to sufficiently focus on education. The 17th SDG promotes "Achieving goals through Partnership." We hope to work with reliable partners to provide the Kumon Method in order to contribute to solving the social problem of educational inequality.
At a time when there is a demand for better education, we are mindful of our responsibility and mission. Through Kumon Method education, we will strive to encourage the independence of each and every child in front of us and, at the same time, to make a global contribution to solving the issues facing society today. We sincerely appreciate your continued understanding of, and cooperation with, Kumon.