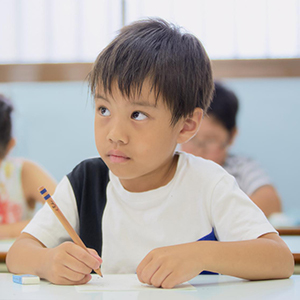 Math and Language Programs
Building a firm foundation of academic ability
The aim of the math and language programs is not to teach techniques for passing exams, but to help children become people capable of learning on their own.
read more
Math program
Goal
Enable students to learn high school mathematics with ease
Features
The Kumon math worksheets, which are designed to gradually increase in difficulty, are structured around essential elements for the study of high school level differential and integral calculus. Explanations and examples are included with new exercises in the introductory sections in order to enable students to do the worksheets independently and advance to higher levels of study without difficulty.
Japanese as a native language program
Goal
Develop an advanced level of reading ability
Features
The Kumon Japanese program begins by enriching students' vocabulary. Students then go on to learn about letters and characters, sentence structure, paragraph building, and systematically advance to the practice of summarizing passages. The Kumon Recommended Reading List, a list of books from various genres in ascending order of difficulty, is also used to help promote reading among students.
English as a foreign language program
Goal
Develop an advanced level of reading comprehension ability
Features
The Kumon English program offers students a daily exposure to English. Using audio players, students listen to basic words and sentences and practice oral reading. Through the carefully designed worksheets, students study English grammar and begin to learn how to read and understand a variety of text in conjunction with Japanese translations.