Environmental Preservation with External Partners
Kumon Forest Foundation
The Kumon Group has made donations to various environmental organizations. In 2014 we established the Kumon Forest Foundation and built a system to provide our continuous support to these organizations dedicated to environmental preservation.
The Kumon Group uses a great amount of paper for printing worksheets and other materials. Therefore, we have been focusing on preventing the waste of paper. Staff have united in their efforts to use environmentally friendly paper, to reduce the use of paper as much as possible, and to increase the amount of paper we put out for recycling.
From now on, we will also strive for the reduction of our own environmental burden and, by promoting forest resource preservation with external partners through the Kumon Forest Foundation, we will continue to make contributions to the preservation of the global environment and the realization of a sustainable society.
Support for WWF Japan forest preservation activities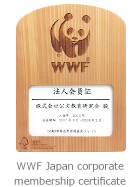 Through the Kumon Forest Foundation, the Kumon Group started to give our support to WWF Japan in 2014. WWF Japan is a member of the WWF Network, which is an organization for global environmental preservation operating in over 100 countries worldwide.
The WWF was established in Switzerland in 1961. Its mission is to protect biodiversity around the globe and to reduce the human burden on nature and wildlife. Forest preservation is one of them.
In addition to fieldwork, such as surveying and protecting rare species and reforestation through tree planting, WWF Japan works toward the goal of sustainable forest preservation by supporting local communities and the responsible purchasing of raw materials in Japan. It also conducts promotional and educational activities through the development of environmental educational programs and the organization of seminars and other events related to the environment.
WWF Japan supports forest preservation activities worldwide through its global network and also works on environmental education. Through education, Kumon also aims to make contributions to local communities and countries around the globe. Therefore, since we understand their activities, we also decided to support WWF Japan.
1.

ESD Activities on Borneo Island

In Lon Umun Village located in an area of Borneo Island that retains a particularly valuable biodiversity the development of an oil palm plantation to produce palm oil is proceeding.

From 2016 the WWF has been carrying out ESD (Education for Sustainable Development) training in the elementary and junior high schools of this village focused on helping develop children to protect their valuable forest by themselves. Until now, introduction of ESD, group discussions and lessons that used the outdoor environment, the method that includes local environmental problems in lessons, etc., have been carried out for teacher training. In August of 2019 through calls from teachers who had received training a study session was held with teachers from nearby elementary and junior high schools, and ESD training contents were introduced, and the curriculum and teaching method were discussed.

Elementary and junior high schools in Lon Umun village are making a contribution to creating a sustainable society through ESD. It is necessary to improve the facilities within schools and to improve the school environment in order to communicate ESD to students. It is necessary to use locations outside of classrooms and to have students enjoy their learning. As one way of doing that we increased the greenery within the school. In addition, we made new book shelves and reorganized the old books that had been laying around unread.

Funds are required to improve facilities within the school and to carry out more activities. As one part of school lessons we discussed if it would be possible to make something at the school and sell it in order to generate funds. We hope to continue to provide support so that ESD activities in schools will be activated and that the community itself will continue activities.

※ Education for Sustainable Development: activities aimed at creating new sense of value and behaviors linked to solving many problems around the world such as the environment, poverty, human rights, peace, and development and creating a sustainable society.
2.

Forest preservation in the Mekong region

The forest in the Mekong River basin on the Indochinese Peninsula are rapidly being depleted and animals such as the tiger, elephant, and gibbon in the area are facing extinction. In particular, from 2010 the development of natural rubber plantations has progressed and this is one of the reasons for forest destruction.

The WWF implemented an agricultural training program (agroforestry) concerning cocoa, coffee, and plants of the potato family for 52 people in order that the residents in two villages as well as the surrounding area in the Thandaung region of Myanmar engaged in the production of natural rubber are not overly reliant on a specific type of agricultural product and are able to gain a steady living and make economic progress. In addition, training regarding rain guard installation for rain water removal during the rainy season (approximately June – October) that will enable natural rubber harvesting during the rainy season for the first time was carried out for 23 participants.

Moreover, beginning in June of 2018 the WWF has set up automatic cameras in Kaeng Krachan National Park, the largest natural reserve in Thailand, in order to carry out a wildlife survey. The presence of one tiger was observed at the beginning of 2019 and a second tiger were confirmed in the summer of 2019. Tigers in the area are losing their habitat due to development. It is not known where these tigers came from or if they are still living in the national park. However, this valuable forest in the Mekong basin is one ecosystem and data from continuing surveys will be gathered and preservation activities will be carried out.
Participation in Reforestation Activities through the Tree as a Present
All Instructors in Japan submit reports via the Center system and they order worksheets and items via the internet as part of the effort by the Kumon Institute of Education. We have set up a system where Instructors are given "Green Points" in this process. The Green Points that are earned can be donated to the NPO Environmental Relations at a rate of 1 Green Point = 1 yen. This NPO is engaged in tree planting activities called the "Present Tree."
A total of 1 million yen, including 490,000 yen contributed by Instructors, was donated in 2019 for tree planting activities in Fuefuki City, Yamanashi Prefecture, which is located to the east of the Kofu basin.
The forest in Fuefuki City has suffered damaged in recent years from insects and proper maintenance of the forest has not been possible due to a lack of personnel available to do this job. This has led to the decay of the Japanese red pine planted forest. Trees in the Japanese red pine planted forest that had undergone insect damage were cut down, tree species conversion was carried out, and local growth deciduous broad-leaved trees were planted. Staff members also participated in the tree planting activities. The goal is to create a local forest with rich biodiversity. This time 250 trees were planted. Over the past seven years a total of 2,491 tree saplings were planted. Together with the Instructors of the 16,200 Centers nationwide we will continue our efforts to reduce paper usage through our Green Points activities and we will participate in the forest preservation activities via the tree as a present.
Introduction of Kumon Method study into BRAC schools
in Bangladesh, contribution to achieving SDGs
Kumon's
Environmental
Activities
Environmental Preservation with External Partners