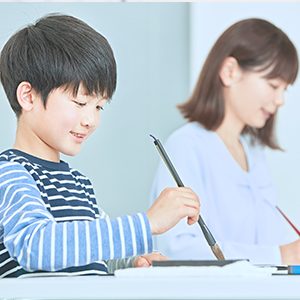 Penmanship and
Calligraphy
Conveying the joy of continuous learning
The Kumon Penmanship and Calligraphy Program is for all generations, from young children to senior citizens. With worksheets that make it easy to learn and individualized instruction for smooth study, anyone can take the first step towards self-improvement.
read more
Features of our learning method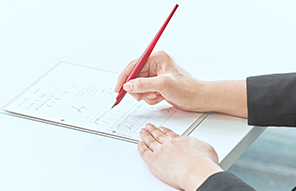 Individualized instruction and self-learning are the prime features of the Kumon Penmanship and Calligraphy Program.
Individualized instruction
The Instructor determines the appropriate volume and path of study for each and every student. Students repeat exercises as needed and advance to the next step while Instructors consider their degree of mastery of the content, thus allowing them to study at a level appropriate to their ability. This allows all students to comfortably continue their study, regardless of age, level of penmanship, or calligraphy skills.
Self-learning
Students are encouraged to proactively learn on their own through the following process: read the instructions on the worksheets, apply the core principles of handwriting, and carefully emulate the model in the worksheets. Students are thereby able to efficiently gain penmanship and calligraphy skills.
Features of our learning materials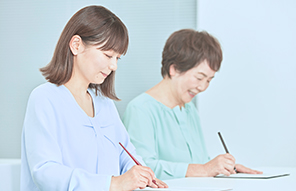 We aim to provide our students with skills that they can apply in their daily life. Therefore, our learning materials focus on usefulness, and cover a wide range of formats, including letters, postcards, and other practical documents. Students systematically develop their writing skills by first practicing drawing lines, then tracing and copying individual letters and characters, and finally writing entire sentences and passages. By studying the worksheets in order, just like walking up a staircase, students naturally gain the ability to write more beautifully in everyday life.
Broad age range of students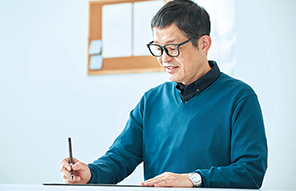 Our Instructors support students to achieve the goal of improving their handwriting as a part of their lifelong learning. In this era of e-mail, Kumon hopes to help people rediscover the beauty and value of handwriting that truly expresses the genuine feelings of the writer. Students ranging from young children to those in their 90s learn side-by-side in our Centers. In fact, quite a few people begin study with us when they are their 70s or 80s. We see parents studying alongside their children, as well as members from three generations of a family studying together. The number of students who have been studying with us for over ten years is also increasing. Our Centers are places where people from the local community can communicate with one another and work towards mutual self-improvement.